With the highly anticipated Natural Products Expo East just around the corner, we know you're eager to seize every opportunity this exciting show has to offer. And, as the main event that focuses on innovation, future food trends and all things natural and organic, this show—and ones similar to it—can create invaluable networking opportunities to share your brand's story, exchange ideas with like-minded professionals and build industry connections that take your business to a new level.
Make Every Investment Count
It's no secret that being the center of attention with stellar booths, prototypes, marketing materials and so much more requires significant investment. To ensure a high return on your investment, our experts believe it's crucial to focus on several key aspects:
Promoting Your Presence Early
Your target audience needs to know about your participation well in advance, especially if they want to connect at the show.
Our Recommendation: Start and implement strategic marketing initiatives, such as social media campaigns, email newsletters and blog posts well in advance of the show, to create a buzz and generate interest. (Beat your competitors by being the first to announce your participation and be top of mind for potential customers!)
Defining Key Metrics
Set clear goals for your show investment, asking yourself and your team what you'd like to achieve with the campaigns and strategies you're implementing.
Our Recommendation: Whether it's generating new leads, nurturing existing relationships or raising awareness of your latest products, identify your top goals not only for the show itself but also for the follow-up opportunities.
Ensuring Your Target Audience Finds You
Make sure your key target audience knows how to find you at the event and what to expect from your booth.
Our Recommendation: Keep communication with your audience clear and consistent. Build up the excitement by posting, sharing updates and showcasing prototypes and special events.
Think of the Customer Journey Holistically
To make the most of your trade show presence, think beyond the event itself. Why? Because it's about the entire customer journey. Your marketing efforts—from start to finish—should cover the pre-show phase, the event itself and the post-show follow-ups. Here are some strategies our experts consider:
Trade media and PR

to create a buzz and attract attention even before the event begins

Promotion before and after the show

by leveraging your CRM and marketing automation tools to maintain engagement with potential leads even after the show is over

Booth design and presence

for an engaging and informative space that draws visitors in

Trend-forward executions (i.e., QR codes to provide collateral that leads people to your website for more information)
Your Partner in Trade Show Success
At ColinKurtis Advertising, we understand the intricacies of trade shows and the importance of making a lasting impact. Our expertise can help you navigate the post-show phase and ensure remarkable results. We work as an extension of your team, guiding you through effective marketing strategies and providing metrics to back up your success.
After all, your show-stopping capabilities will be remembered long after the event is over. Our marketing experts understand the importance of presenting your brand uniquely, engaging with your audience effectively and tying it all back to measurable metrics.
See Our Recent Success from IFT 22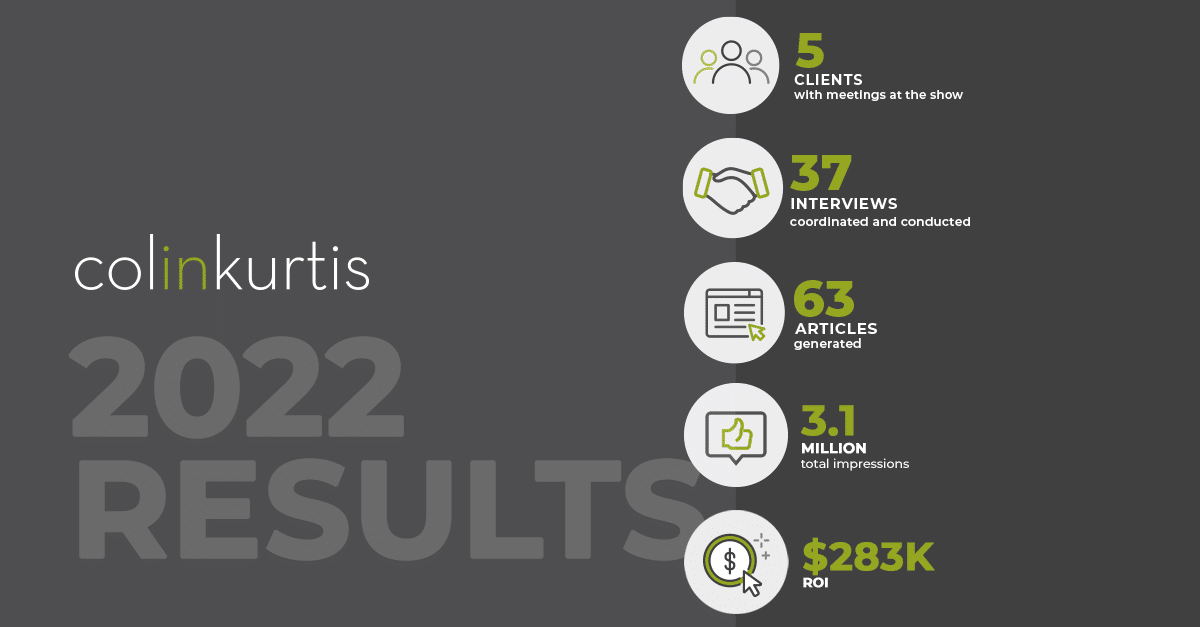 Meet with Us at Expo East
Join us in Philadelphia from September 20-23, 2023, and let's discuss how we can help you make the most of your presence at Natural Products Expo East and beyond. At CK, the success of all our clients is our top priority, and we are eager to be your partner in achieving it!
Headed to the show? Let's talk about how we can help you get the most out of it! Contact Mitch Robinson at Mitch@colinkurtis.com or call 815-965-6657 EXT. 1 to set up a time to connect.
Blog post from:
Valette Piper-Bledsoe
Vice President, Client Services