Social media for a B2B company may sound intimidating and often people think it is "boring" — but B2B brands can have the same strong customer and employee advocates that a B2C brand might have. Sometimes less is more — you don't need millions of followers to build brand awareness, engage a target audience or generate leads. 
The food and beverage industry is ever-changing, and social media is a perfect channel to leverage that dynamic environment. With social media, you can be a thought leader, drive awareness, build engagement, start the conversation, generate leads, and retarget potential and existing customers to grow the relationship. An added bonus: you can share behind-the-scenes looks at company culture and use social for recruiting. There's a lot you can do with one channel, which is why our team of social media experts at ColinKurtis can take all of the necessary ingredients and formulate your social media strategy. 
The first step in building a strategy should be defining social media's role for your organization.
Define the Purpose for Your Social Media
What are your top business goals? At ColinKurtis, we listen to our customers and define the best social media strategy to reach business and marketing objectives, focusing on demand generation and lead generation.
Demand generation creates awareness and interest in the company's products and/or services. These goals include generating social media engagement, video views and web traffic. 
Lead generation is the next step, where we focus on collecting prospects' information for sales teams. Goals can include driving to a landing page with gated content or an appointment page, as well as running a LinkedIn Lead Generation or LinkedIn Conversation Ad. 
For our food and beverage clients, we recommend a mix of demand and lead generation, but it varies based on the company's existing presence. If the brand is new to social media, we have to start by creating demand with engaging content. Baseball lovers will know the iconic quote, "If you build it, they will come" from the film, "Field of Dreams," which applies to social media. Once awareness and interest are there, people will come, Ray. 
Find the Right Social Media Channel(s) for Your Strategy
LinkedIn is typically a safe place to start, but don't immediately rule out YouTube, Facebook, Twitter, Instagram or others. Once you've defined your purpose, you can apply that to your channel strategy. Get to know the social media platforms before you build them, too. 
Clubhouse is a new social media tool that people are using to brainstorm and talk through industry ideas, while people use Instagram more for a human experience. LinkedIn uses hashtags—but don't abuse them! 
Our advice is to start with one platform, master it and keep adding to it when there is a fit!
While social media has general best practices, each social media outlet has its own soul—and you need to go to where your target audience is. 
Define Your Target Audience
Social media users have different needs from different platforms and your B2B strategy plays a role in that. One goal may be to reach new customers, while another might be to push thought leadership or provide updates to stakeholders. 
LinkedIn is a great place to share press releases, but that might not be ideal for Facebook or Instagram. You may want to use Twitter to interact with a tradeshow or webinar hashtag — it takes time to build a channel strategy and an audience on those platforms. 
What Content Should You Post?
Once you have determined your role, your social channel strategy and target audience, the remaining questions are, what should we be posting and how do we talk to customers? 
We're all humans. Whether we are marketing towards consumers or a business, there is someone behind that device. Build out a content mix and use first-person as much as possible.  Businesses usually focus on the 3 Ps of business — Product, People and Process, but I love to focus on my 3 Ps for content marketing — Product, People and Purpose!
We often think about the product and sales, but people and a purpose make an awesome story. Share what happens behind the brand, spotlight employees, showcase community involvement — tell everyone not just what you sell, but what your brand stands for.
Paid Social for B2B Marketing
Social media advertising combined with an organic strategy is key to long-term success with your combined marketing efforts. Social ads should have the same goals as your overall social strategy — demand generation and lead generation. Sponsor content or boost a post — start with a small budget, test some ads and see how they perform (or let our team help). LinkedIn Advertising is a great place for Account Based Marketing. LinkedIn offers the ability to target job seniority, company name and industry, and retarget with integrations to your CRM and website. 
Don't just start an ad without keeping an eye on it. Data tells us everything, so test and test — watch how the ad performs and if it isn't performing well, you can shift the spend. If an ad does well, don't be afraid to run it again!
ColinKurtis' Social Media Benchmarks for the Food & Beverage Industry
We've run hundreds of social media ads over the years and have tweaked industry best practices with LinkedIn Ads. These are our standard benchmarks for B2B social media advertising in the food & beverage industry.
| | |
| --- | --- |
| LinkedIn Click Thru Rate (CTR) | 0.25%-0.4% |
| LinkedIn Video View Rate | 15% |
| LinkedIn Video Cost Per View (CPV) | $0.10-$0.30 |
| LinkedIn Cost Per Click (CPC) | $7-$13 |
| LinkedIn Cost Per Lead (CPL) | $136 |
| LinkedIn Engagement Rate | >0.5% |
There are factors to consider when running social media ads, such as contract size, lifetime value and audience size. The more targeted you get, the more expensive it could be, but these benchmarks are good starting points to build out your LinkedIn Advertising strategy. It may surprise you to learn, you can launch an effective ad campaign on LinkedIn spending as little as $100 per month, but to get the most value, we suggest a $1,000 per month budget. 
Whew, that's a lot! Social media can seem overwhelming, which is why ColinKurtis Advertising is here to help your food and beverage brand. Reach out to Mitch Robinson at [email protected] or call 815-965-6657 EXT. 1 to learn more about our approach.
Blog post from: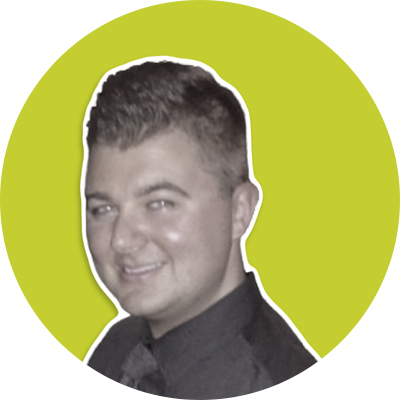 Matt Hensler
Social Media Director