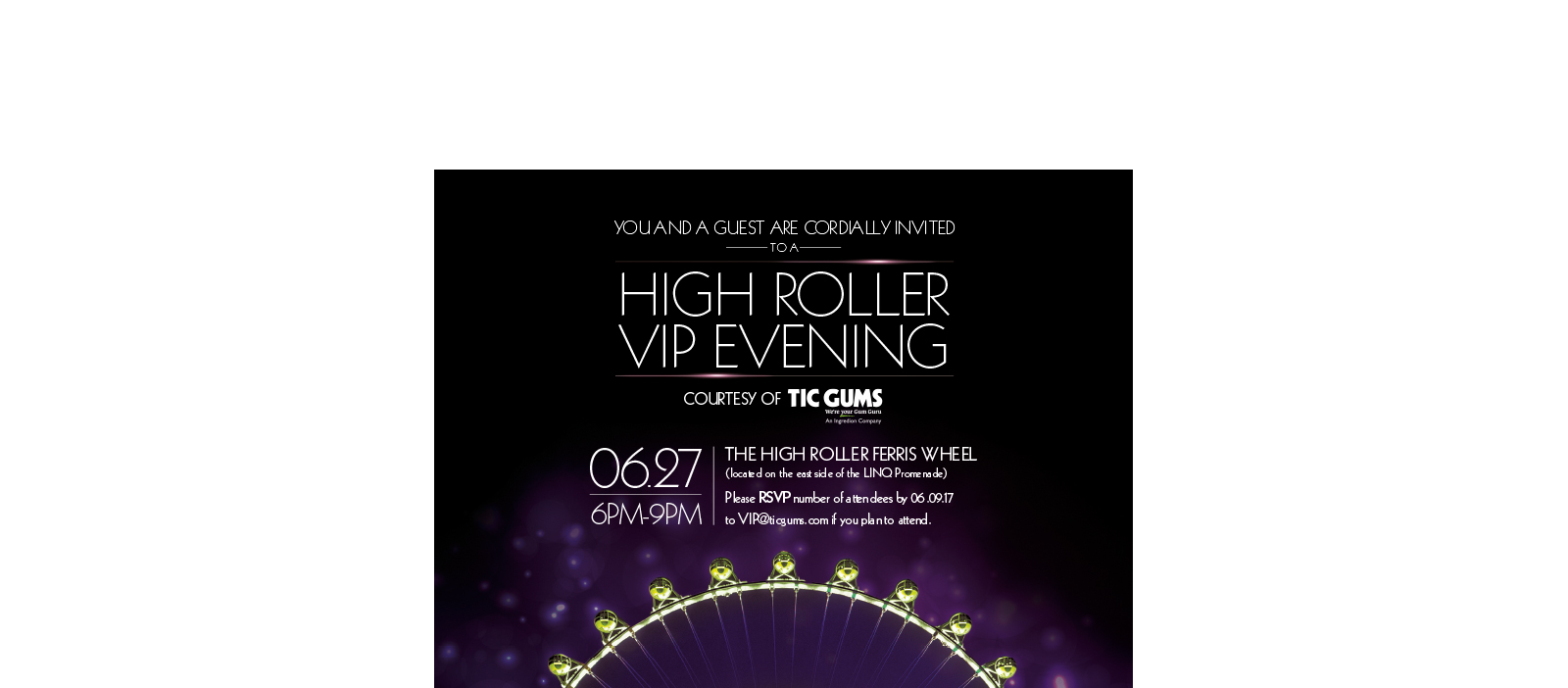 An intriguing invitation triples attendance at special event
TIC Gums
a colinkurtis case study
TIC Gums, a global leader in food texturizer and stabilizer solutions, was ready to take their IFT17 event invitation to the next level. TIC Gums is an Ingredion Company that has provided texture and stabilization solutions for the food industry for over 100 years.
TRIPLE THE PLAY
TIC Gums wanted a unique high-end invitation mailer with a memorable premium to match their high-end, 'High Roller' VIP customer event at the LINQ Promenade in Las Vegas for IFT17. The invite needed a lot of play, since it had a triple mission: to create a buzz of excitement about the event, increase past event attendance and carry key TIC Gums messaging.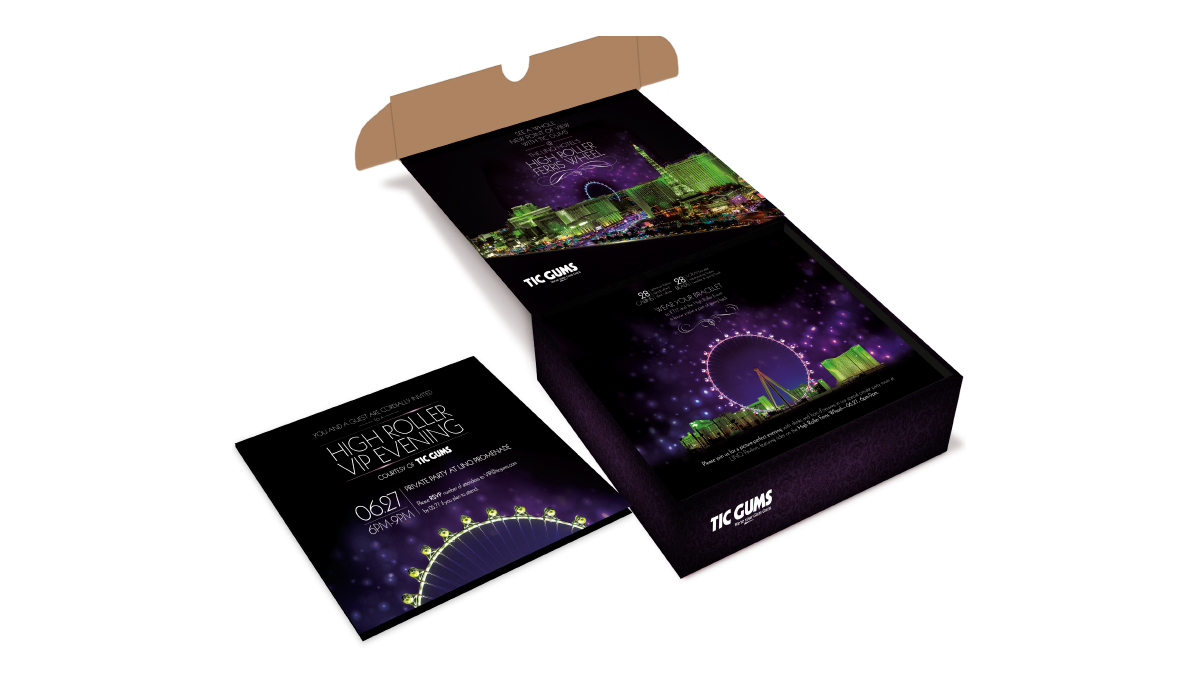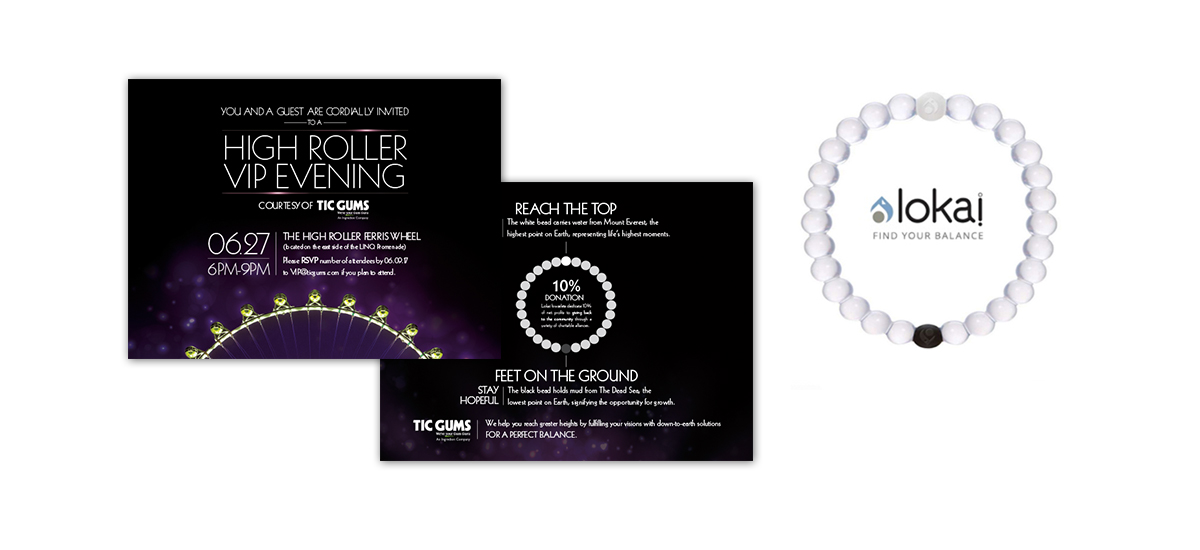 CREATING FROM THE GROUND UP
Like every project, this one had time and budgetary constraints that added to the challenge of creating just the right result. We relied on each other for creative brainstorming and problem-solving to work through every step of the process. Together, we landed on exactly the right vehicle and elements to convey the event's vibe—a high-quality, custom printed box that peaked curiosity about the picture-perfect evening. Inside, the viewer was greeted with a whimsical 'TIC Gums-green/Emerald City' aerial image of Las Vegas that invited them to "See a whole new point of view with TIC Gums." An elegant printed invitation card served as a deluxe formal invitation that reinforced the theme of the evening. When removed, the card revealed the premium, a Lokai bracelet, made of 28 round beads that coincided with the 28 round cabins on the event's High Roller Ferris wheel. The Lokai bracelet incorporates a message of balance, with elements from different places in the world (much like TIC Gums' products and customer base). Messaging reminded the viewer that "We help you reach greater heights by fulfilling your visions with down-to-earth solutions for a perfect balance."
"ColinKurtis really helped us step up our game. Not only did we have a beautiful invitation, we had an amazing story to tell about the giveaway that came with it—an instant conversation starter for those that attended our event, which had 3x the number of attendees than our past events!"
—Corie Beyers, TIC Gums
TRIPLE THE RESULTS
The unique invitation started a buzz as soon as it hit recipients' mailboxes. It continued at IFT, with visitors at TIC Gums' booth talking about their plans to attend the 'high rolling' party. Most importantly, the buzz turned into buy-in, and TIC Gums experienced a highly successful event, with triple the number of VIP customer attendees than their previous IFT special events.