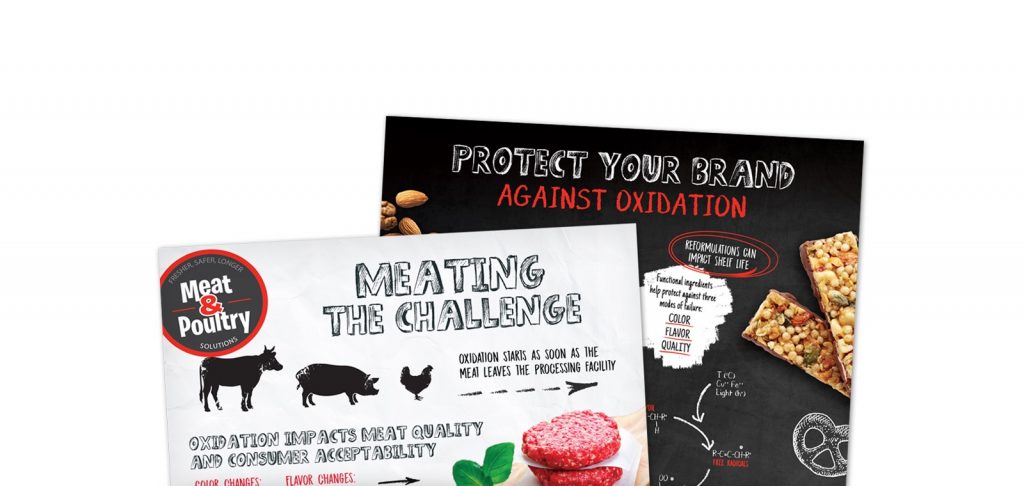 An integrated campaign serves up fresh, effective results
KEMIN FOOD TECHNOLOGIES
A ColinKurtis Case Study
After experiencing demonstrated success with a strategic marketing campaign targeting the meat & poultry market, our client Kemin Food Technologies extends their strategy to the baking & snack market.
Kemin Food Technologies is a leading provider of customized shelf life extension and food safety solutions for the food and beverage industries.
BRANDING IN B2B
Knowing one's audience is particularly important in the B2B world, where breaking through with branding can be challenging, but offers great rewards. In fact, B2B companies with strongly perceived brands can generate a higher EBIT margin than others.*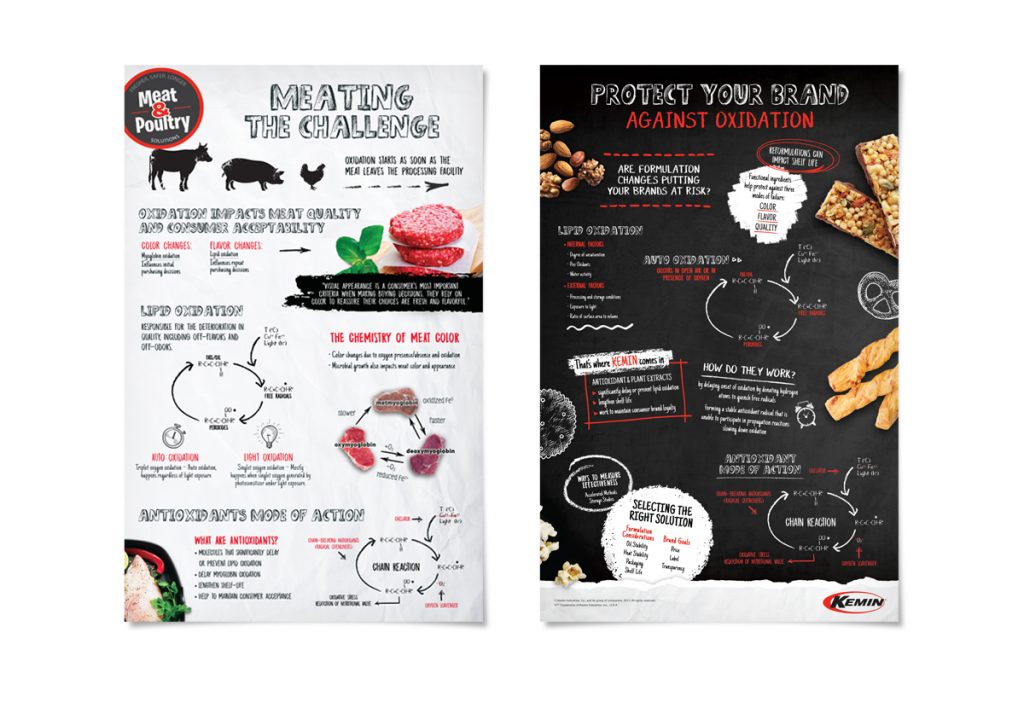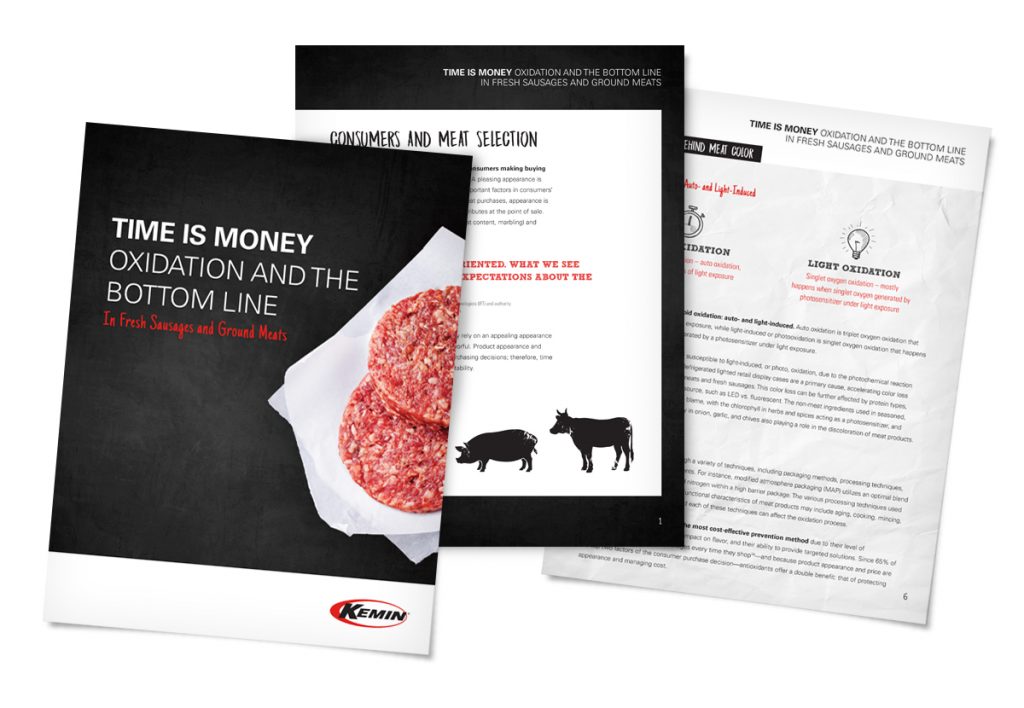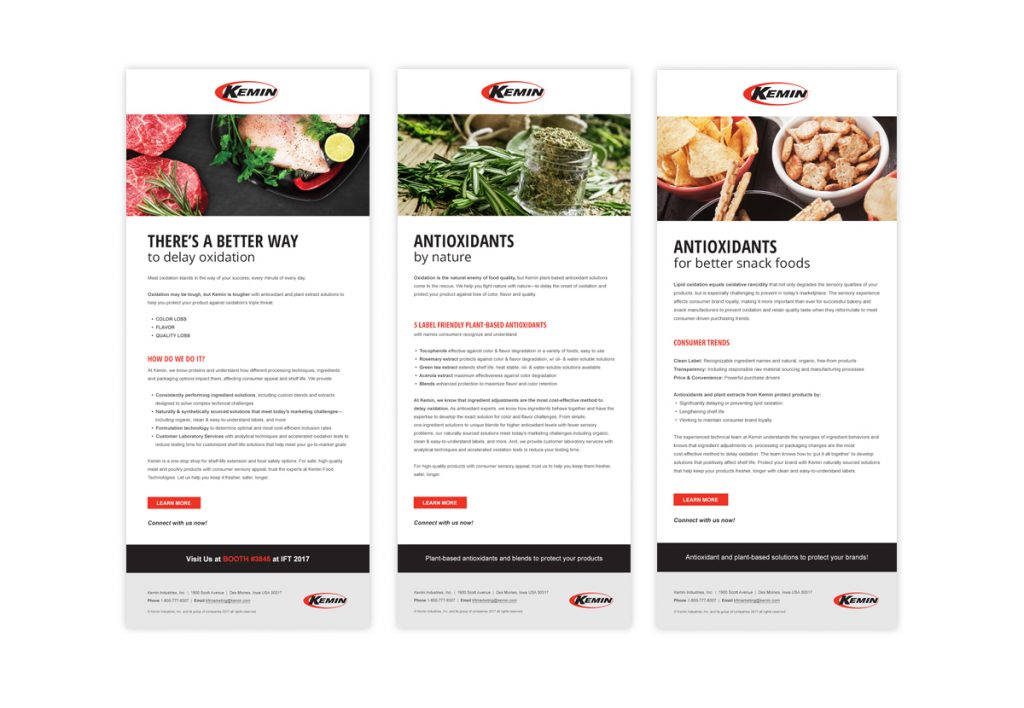 KEEPING THINGS FRESH
Integrated campaigns for both the meat & poultry and baking & snack markets consisted of carefully considered elements, including print and digital media campaigns, sales collateral, and an enewsletter program highlighting antioxidant solutions. A Google AdWords campaign helped guide potential customers to Kemin's site where market-specific interactive web tools included an oil stability calculator for baking & snack segment users and a meat color indicator tool for meat & poultry segment users. Trade show support included booth updates and eye-catching market-appropriate handling guides, while our public relations support took advantage of earned and editorial opportunities. A white paper titled, "Time is Money: Oxidation and the Bottom Line in Fresh Sausages and Ground Meats," targeted a specific audience in Kemin's win circle. Whether they were 'Meating the Challenge' or 'Baking a Difference', each piece created for Kemin targeted a specific outcome.
MAKING THINGS HAPPEN
It didn't take long for these high-quality, targeted efforts to show results. The eblast program engaged thousands of targets and generated hundreds of leads, while the Google AdWords program created more than 1 million impressions and generated clickthroughs that drove prospects to Kemin's website. The public relations program doubled the earned impressions over the previous year, for a great ROI. Lastly, the white paper delivered very successful results that far surpassed the hosting publication's average, including downloads 160% higher than average.
INFLUENCING DECISION-MAKERS
In a marketplace where 57 percent of the sale occurs before sales contact and mostly on the web, we ensured that the integrated marketing approach for Kemin Food Technologies would make their sales efforts easier, more targeted and more effective by showcasing their unique selling points and cutting through the clutter.
* https://www.forbes.com/sites/mckinsey/2013/06/24/why-b-to-b-branding-matters-more-than-you-think/#63e2af3459dd